A Belgian Adventure
In 1949 my mother and her friend ES travelled to Belgium at the invitation of Mme Verhaeghe of 84 Rue d'Eglise, Berchem St Agathe, Brussels, in order to visit her son Marcel who was mum's penfriend. Mum and Marcel had been writing to each other for some time and had met before, I have some photos of them both taken at Kew Gardens in 1948.
Marcel and Diana, Kew Gardens 1948
Mme Verhaege wrote to my grandmother:
"Having corresponded regularly and for quite a time with your daughter Diana, our son, Marcel has invited her to spend a couple of weeks in Belgium in September. His friend, G, has invited ES, for the same period.

We would like you to understand it was with our consent that he issued the invitation and that if you and ES's mother agree to let your daughters come over, we should do our best to give the girls a pleasant time.

We would meet them at the boat and would see them safely on board for their return. As to their stay in Belgium, my husband and I think it best that both girls should stay with us, and Marcel stay with Mme Schacq, G's mother. We would look after them as if they were our own daughters."
(She goes on to say that this could only happen if Marcel passed his exams).
Marcel wrote describing the arrangements for their arrival and also asked that she bring
"3 or so bottles of Worcester sauce".
They would be met at Ostende by Marcel , his parents and friend G and they would arrange for the rail ticket for Brussels to be stamped as unused so they could claim a refund on their return home. They would drive to Bruges and visit the cathedral, and then go on to his de Coninck relatives at Maldegem with whom Marcel & G would stay, whilst Diana, ES and M & Mme Verhaeghe would stay in a hotel. Marcel also suggested she keep a travel diary
"and after you return home you should write a story of your journey".
He continued with some anecdotes of a recent trip to Scotland - walking round Edinburgh in a kilt, and attempting to play the bagpipes.
She did indeed start a diary, beginning on 17
th
September at Victoria Station where they joined the Continental Express for Dover. A young man helped put their cases on the rack. By 11.40 she complained
"the train is travelling very slowly"
though by 12.15 it had gathered speed and they had seen some oast houses.
"1.20 When we boarded the boat we heard somebody calling us, it was the young man from the train, he had saved us a seat. Leslie, this was his name, lives at Guildford and is going to visit his Belgian wife, who is staying in Blankenberg with her parents. Leslie invited us to dinner with him but we preferred to stay on deck and eat sandwiches. We did not feel a bit seasick. A funny collection of people on board, some are very nice and some are very standoffish & look down their noses at you so much as to say much as we are too good for you."

However a friendly woman explained to the girls about landing tickets when they couldn't hear the loudspeaker announcement properly. They had another conversation with Leslie, and a walk round the deck. She also mentions seeing another ferry which her friend JL was on. Mum's sister thinks that the penfriends may have been arranged through the local youth club in which mum was an active member, also serving on the committee.
After a bumpy docking
"an old man went sprawling"
, then they were
"off the boat at last, walking to the Customs I could see Marcel etc & I shouted to ES, she was too busy chatting, into the customs shed we could see Marcel, his parents and G…Madame et Monsieur Verhaeghe are very nice persons, we packed our cases into the back of the car & we went to a café and had some buns, cakes (they are marvellous), we also had coffee after we'd finished our meal Marcel & G took us to the PO where we sent a telegram each to our mothers."

She describes the journey:
"fields have no hedges, only separated by ditches, one thing I think is a very good idea is a cyclists path"
– she had been hospitalised after being knocked off her bicycle in a hit and run incident when she was 14. They stopped off in Bruges where they visited the cathedral, looked in a lacemaker's shop and walked by the canals but
"oh they did smell, but very pretty".

On next to Maldegem, where they visited Marcel's relatives. Madame de Coninck
"a jolly sort of woman"
, her husband
"a short little man with grey hair",
a young woman, M,
"about 25 nice gay and talkative"
and R
"approx 12 years…he is like his mother, he is a typical schoolboy and likes pranks"
.
Marcel asked if they might play the piano in the next room, and though she didn't really want to, Diana got ES to play some swing, boogie woogie (
"Marcel does not like this")
and some serious music, after which they were called in to supper at a
"table laid with a blue silk cloth & napkins and a salad of dressed lettuce, skinned tomatoes, cold sliced potatoes, boiled eggs, peas cooked in their pods and a dish of mayonnaise."
There was
"a great deal of chatter and laughing"
in French and Flemish for about an hour
"I was very vague about time, also tired and bewildered".
Then they walked to the hotel past busy cafes and a brass band outside the town hall, Diana trying not to turn her ankle in high heels on the cobbled streets.
In a letter to her sister (though the first page missing) she talks of visiting G's mother Mme van der Schrick where they had a meal, Diana said she tried some Belgian beer to be polite
"and tried to like it to please M",
then
"we caught the tram to Brussels, where the big shops are all neon light flashing everywhere. We went into a café, it was crowded, it had a band, singers & a comedienne, we left at 10 o/c, the streets are always crowded, worse than London"
. She asked her sister to pass the letter to her mother to keep for reference for when she wrote up her travels, mentioned that the indigestion she had suffered from on arrival had gone and ended cheekily
"Excuse my writing in Marcel's bed, doesn't this sound wicked"
. Marcel was, of course, staying with the van der Schricks while she was at the Verhaeghes .
The diary was never completed, though there are clues about the visit in her photo album: the four friends in a park, in a rowing boat, on bicycles, having a go on stilts and some anecdotes on postcards sent home that were later reclaimed from their recipients - they went up the tower of Brussels Town Hall, to an opera "
I understood it very well"
and
"the food is marvellous you have never seen anything like it in your life", shopping with Mme Verhaeghe "after we had Co-Cola [sic] and two creamy cakes".
When she wrote to her parents about her return travel arrangements she said
"I do not want to leave Marcel and he does not want me to go, it is a very sad feeling"
, but she signed off her letter with twenty kisses and had complained in a postcard to her younger brother that she'd only had one letter from home while ES had four, so it sounds as if she was missing her family, as they were all very close.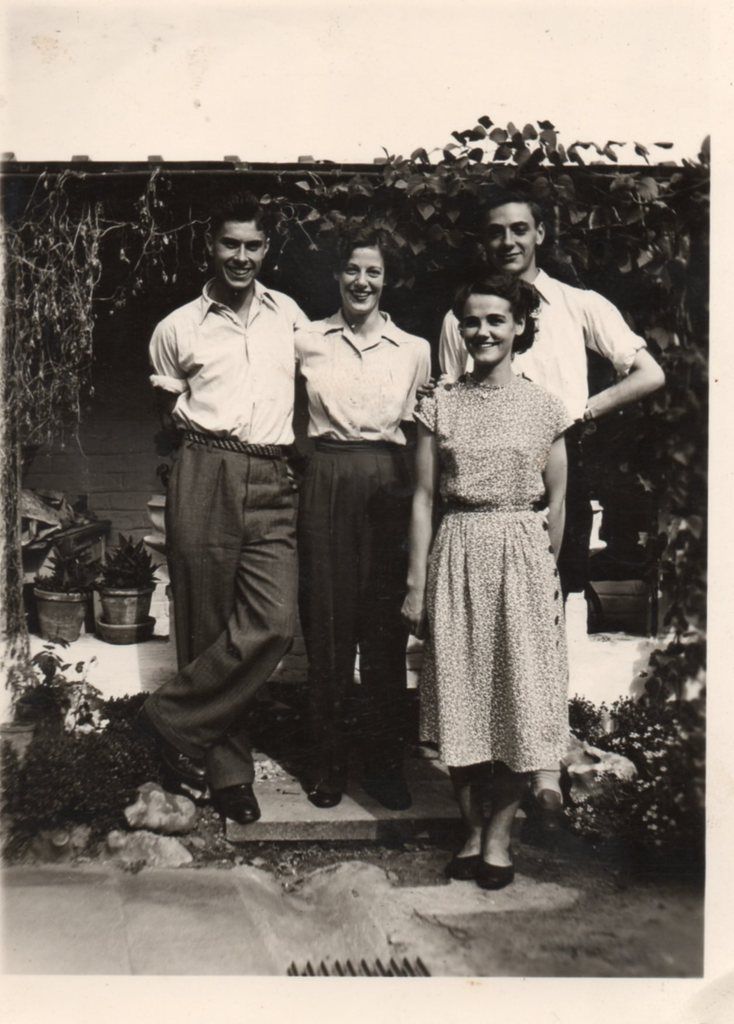 The four friends, Marcel and Diana are on the right.
The friendship continued, there are photos of G and Marcel sent to Diana the month after the holiday, and some later ones of Marcel in Army uniform, together with two letters from Mme Verhaeghe, one of which was enclosed with a gift of material for a blouse for Diana's 20
th
birthday in 1950.
There is also an invitation from Madame C Vigne, Monsieur F Sacton , Monsieur et Madame H Sacton (the bride, CS's family) and Madame A Verhaeghe, Madame H van Cauwelaert and Monsieur et Madame R Verhaeghe (Marcel's family) to Marcel's wedding to CS at Etterbeek on 2
nd
March 1954, together with a photo of Marcel in his army uniform with his bride in a beautiful dress with a train sweeping round her ankles, surrounded by flowers.
My mother married my father the following year, they had all kept in touch and Marcel with his wife and son visited us in north London in about 1964, I have a photo of myself, brother and Marcel's son P as small children playing together, but we lost touch after that.
The diary and photo collection were kept by my grandmother and I knew nothing of them until they were passed to me by my aunt about 5 years ago long after my mother had died in 1980. My father and Marcel have also died, I gather from an internet search Marcel was a geologist with an interest in volcanoes and noted collector of shells.
I now have the cameo brooch my mother was wearing in the 1948 Kew photo, I only noticed she was wearing it after I had finished this piece and was choosing the photos. It has a young woman's profile, and in the background is a volcano.
[Jul 2016 My aunt has confirmed that the brooch was a gift from Marcel]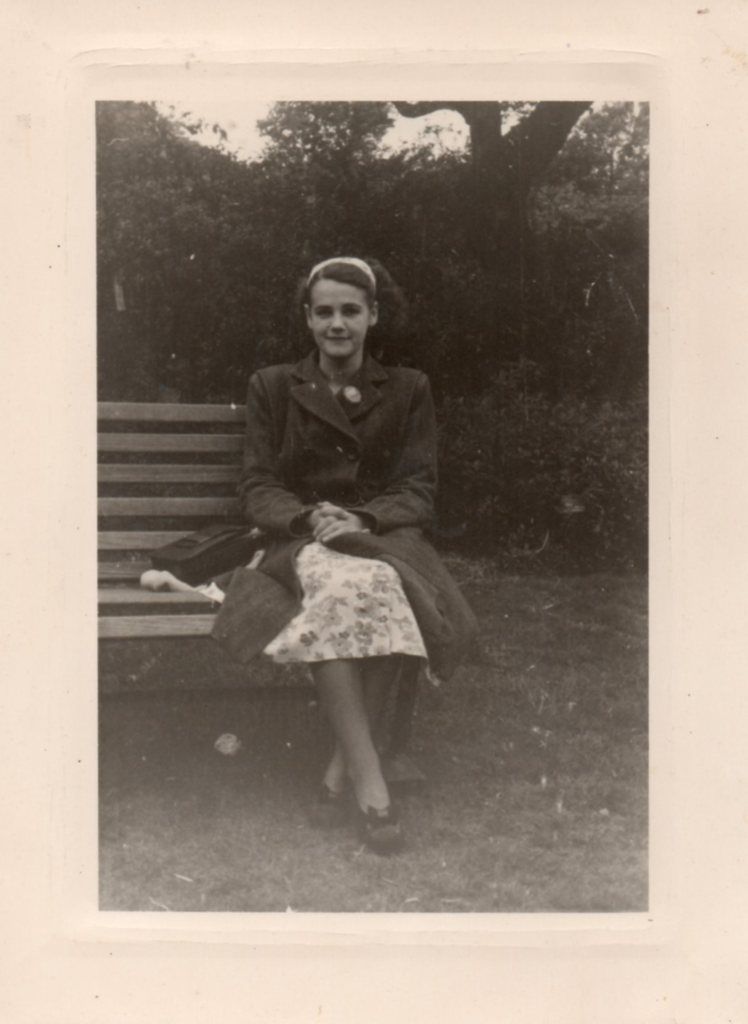 Diana at Kew Gardens 1948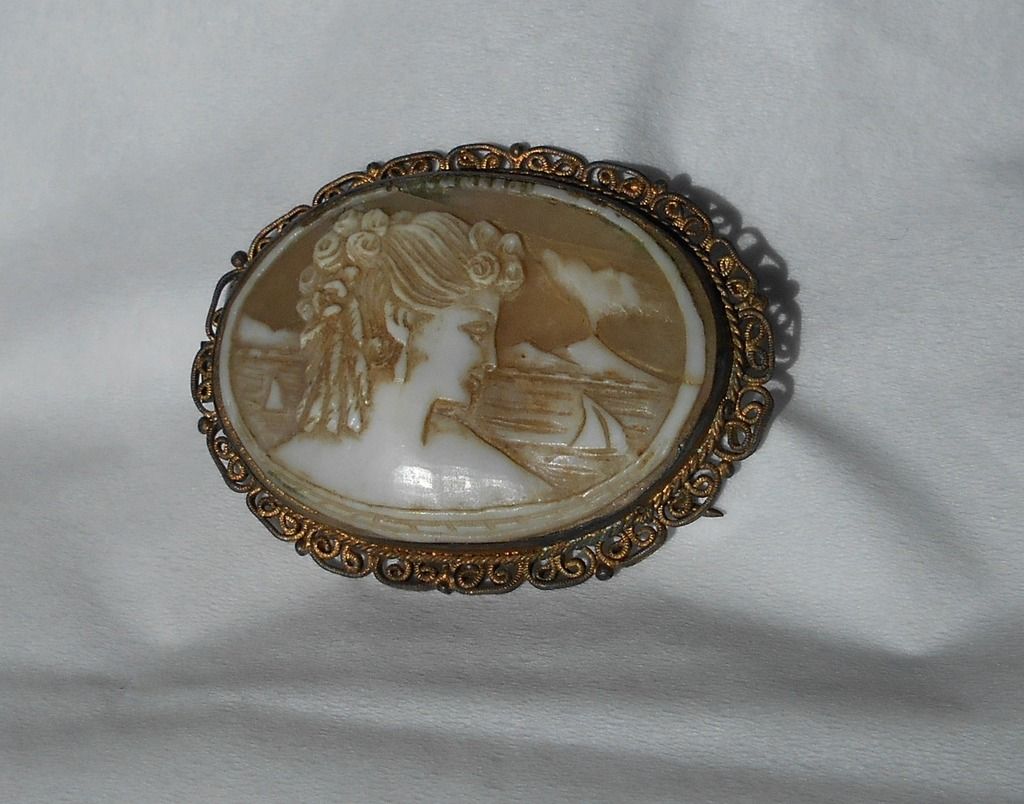 Diana's brooch.